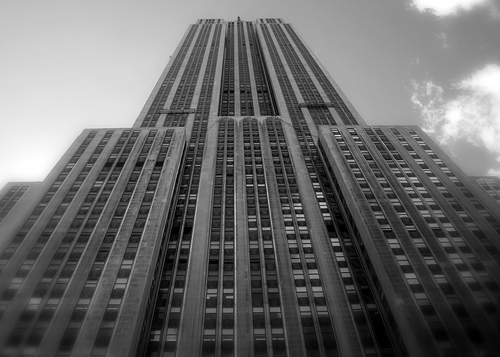 I spent some time thinking about the angle of this post.  And mostly, what is it that will give me the credibility to write it and maybe convince some people that it is not just a wasted 10 minutes of their lives. At the end, the only thing that I could think of is that it was extremely effective at shaping my thinking about the future and startups in general. This combined with the fact that I had very positive response from the some 20 or so people with whom I've shared my thinking on the topic, made me think that it is good enough of a start.
The anxiety
Being a founder and an entrepreneur are some of the ultimate words nowadays. It seems like you can't go wrong using such words in a sentence or defining yourself by them. Just like when you say 'cloud computing' or 'social media', it all sounds… righteous and elevating. And I don't argue differently. In many ways being an entrepreneur and a founder represent the ultimate career satisfaction award.
But this strive towards entrepreneurship creates an enormous amount of anxiety in the entrepreneurs-to-be, forcing an almost binary switch of whether you are working for yourself or not. Furthermore, this is reinforced by the fact that usually people only hear about the few success stories out there, and tend to ignore the numerous failed attempts at startups. As a result, many people jump all in, only to find themselves unable to stir the ship in the right direction, run out of fuel, get demotivated, fail, quit, get completely frustrated, and go back to square 1.
For me this was also the case. I spent endless sleepless nights recently, trying to figure out how to become a full-blown successful founder and entrepreneur overnight. Having been a founder before, not going back to square 1 was a top priority for me. Having seen the many failures around me, made me even more paranoid about the steps I take going forward. I wanted my path going forward to be shaped by positive rather than negative reinforcement (for clarification, negative reinforcement is when you for example administer painful electric shock to an animal, to make them cease a certain behavior like peeing on your carpet).
As I was talking to people about my tentative plan to leave my full-time job at Microsoft and start my own company, I caught a very saddle piece of information – " the average age of entrepreneurs is 37". 37? Wow. The profile in my mind was a dropout college kid in their early twenties that busts out code for a few weeks and arrives with the next big thing. Well, be it or not the case, the reason why for me this was such a crucial piece of information, is that it removed a lot of the anxiety that had built up over time. I recently turned 26, and that meant that by now and the time I reach the 37-year average there are about 11 years to go. It didn't mean that I have more time to slack, quite the opposite. It meant that I could take a step back and strategically use some of that time to close the gap between where I am and where I want to be. The goal being to reduce risk of failure by being surrounded and learning from others' success, while positioning for taking next steps. This was the basis for me coming up with the four stages of a startup, which helped me chart a logical path to achieving my ultimate goal and also helped me evaluate where a prospective company lies on the path.
The Four Stages of a Startup
The four stages of a startup is my breaking down of the stages between which a technology company moves, and some of the things that can be learned at each stage.
Stage 4: The enterprise
The enterprise, or the post-startup, is the stage a startup enters after it stops being a startup and becomes an established enterprise. That's a company with a few thousand employees. Some of the companies that I'd consider being Stage 4 are Microsoft, Google, Facebook, and Apple. They are great and successful engineering companies that sometime in the past have experienced success and continue to rely on solid engineering practices to guide them to sustain and expand their influence in their respective sectors. One can learn a lot about what it means to be in the industry by joining and spending some time at a Stage 4 company, especially when it comes to engineering.  
That's essentially where I was recently.
Stage 3: The successful startup
The way I would classify Stage 3 startups would be, a startup that has not been around for a very long time, and has experienced a pretty rapid recent growth and success. In essence, it still operates and behaves like a startup in every possible way. It's a company you have heard of, like, and get excited about. There is a lot that can be learned and observed from being at such Stage 3 startup, especially with respect to successful company execution. It also has the added benefit of providing a lot of leadership and broad company-wide impact opportunities. As far as Stage 3 companies go, I consider Twitter, Scribd, and Hulu being prime examples in this category.
For me, a few months back, while still at Microsoft, Stage 3 was an immediate next step that I wanted to get a shot at, as it would get me closer to my ultimate goal, while giving me more time to figure out my positioning for Stage 2 or Stage 1. Every minute that I spent at Stage 4 onwards felt like a waste. Luckily, I got the right opportunity relatively quick, and became the second hire of the new Hulu Seattle office. So far, it's been an amazing experience there.
Stage 2: The prospective successful startup
Stage 2 startup, I would classify as a company of 3-5 people that has formed and has locked down on a potential future value proposition and has started executing on it. That would likely be a company that you haven't heard of yet, but which team members have a proven track record of success. I think the latter is extremely important, since having people who have been successful in the past, more often than not would mean that when times get tough, they'd know what to do. That's not to say that you should make them change your diapers. No. This means that you'd be confident in their decision making to a degree that you can trust them to do the right thing and focus on what you'd be extraordinarily good at.
Stage 1: The (co-)founder
Stage 1 is the ultimate goal – being a founder or a co-founder. You are responsible for conceiving and turning an idea into reality, forming an A+ team, being a guiding force, finding funding, getting great set of advisors, and having unprecedented execution. It is, in my opinion, what good founders are able to achieve. And to a large degree this requires a lot of prior play in the field. It is not to say that it can't be done on first try, but the odds of failure, I feel, are much higher.
Jumping head first into Stage 1 from Stage 4 for me felt like too much of a jump at the time. So, whereas being a founder remains my ultimate goal, taking some time to close the gap, and establish my play felt like something that's worth spending some time on.
~~~
That's what my thought process of what lays in the near future looks like. Life is full of surprises though, and that's just one of the possible ways to get to Stage 1 — certainly not the only one. However, for me the biggest benefit of this framework (which if you follow closely, reassembles a mirror image of Crossing The Chasm, or how you'd see Crossing the Chasm if you were a constant, and all companies are moving targets) is that it elevated some of my frustrations and anxiety with the decision of how and when to shoot at founding a company.